We offer a safe and "
yes, I can!
"
environment for all of our riders.

We welcome students of all ages, from
preschool to senior citizens. We believe
everyone can benefit from experiences with
our "equine therapists."

Limitations: We will assess each rider
individually. Riders will need a physician's
approval before beginning. We may not be
able to accommodate all riders.

Weekly lessons are provided in 2-month
cycles, riders are expected to be at each
class. One excused absence is allowed
during each cycle; additional absences must
be paid for. The riding center is closed for
major holidays.

We are proud to provide a group lesson for your scout
troop or other group. Alternately we can assist the
scouts in their quest for badges.
A special patch is available when badges are earned
with our Tennessee Walking Horses.

When riders have reached intermediate level (ranch
hand), they may join us for a local trail ride.

We are a SpiritHorse Facility


We use a research-based award winning curriculum
developed by SpiritHorse Therapeutic Riding Center
in Corinth, Texas. The Curriculum was originally
developed for riders with autism and has been
modified for other disabilities
Our instructors have received training at SpiritHorse
Therapeutic Riding Center and we are a
licensed SpiritHorse Facility. We are currently
seeking donations to send additional volunteers to
Texas for certification.

Watch Jenna as she says her first word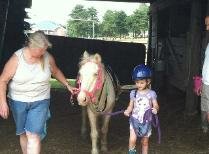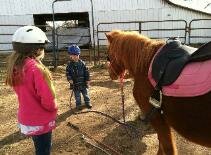 Did you know?
Dale Evans wrote the song:
"Happy Trails" as a song of
blessing to the viewers of the
show until they "saw" them
again the next week.